Background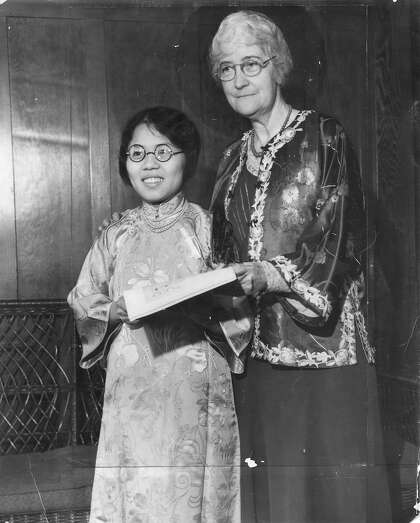 Throughout our research, when looking at habeas corpus cases involving women it either resulted in cases to do with derivative citizenship or prostitution. Derivative citizenship is citizenship given to children through the naturalization of parents. Along with this, numerous cases were found involving prostitution. It was because of the Page Act of 1875 that women, especially Chinese women, had trouble immigration to the United States because of the assumption that they were prostitutes.
It is important to note that at this time, there were people who were trying to prevent Chinese women from being deported or save them from prostitution. One of these important people was Donaldina Cameron. She was a protestant missionary who worked at Mission Home which fought to stamp out slavery in Chinatown in San Francisco. Mission Home was a safe haven for all the girls who lived there and those who lived there were provided schooling and domestic training while there.
Case File 1: 55, 245-252 Lee Kwock Koon
This case is of a small child, but contains information pertaining to his mother who was traveling him. In 1922, Lee Kwock Koon, age 4, and his mother, Chan Shee, tried to gain entry to the United States at Angel Island. They attempted entry through Chan Shee's alleged husband, Lee Hong, who was a native citizen of the United States. Lee Kwock Koon was the stepson to Lee Hong. During their interrogation and inspection, Lee Kwock Koon was "diagnosed" with "Infancy Class B" by the medical examiner meaning that he would need "special care" in the case of deportation or entry. This meant that the fate of his mother was dependent upon whether or not Lee Kwock Koon was granted entry.
Though the citizenship of Lee Hong and the relationship between the mother and the father were valid, under the Chinese Exclusion Act, there was no justification in allowing the entry of the child, Lee Kwock Koon. Thus both mother and son were excluded after a year at Angel Island.
Case File 2: 53,678-163 Wong Sun Shee
In this case, Wong Sun Shee, alias Wong Sam, was found in violation of the Act of Congress approved on February 20, 1907 to which was found receiving, sharing in, and deriving the benefits from the earnings of a prostitute. With this ruling, she was to be deported back to China. Her daughter, Louie Ngo, completes an affidavit in hopes that the Department of Labor will reconsider her mother's deportation. She states that her mother is in poor health; has no relatives or friends in China, she will likely perish due to her ill health. Along with her daughter's affidavit, numerous others were submitted by local Chinese firms and individual Chinese and whites.
Wong Sam was taken into custody after a raid had been done on a house of prostitution in San Francisco. She was then further charged with holding certain Chinese girls in peonage. Wong Sam denied that she shared the earnings of these Chinse girls and that she was only the housekeeper and knew nothing of their doings. However, one of the girls, Lee Choy Lin stated that she had been smuggled in on the Manchuria ship in 1909 and was taken to the house in Chinatown to which she was made to practice prostitution.
Her attorney pleaded for leniency because Wong Sam was a mother and grandmother of numerous United States citizens. As well, she was an old woman who too physically and mentally weak. It was with this testimony that her warrant for deportation was sustained and that she was to be deported back to China at the Government's expense.
Sources
Commissioner General of Immigration, Washington D.C. March 16, 1916, File 53,678-163, accession E9, Subject Correspondence, 1906-1932, Records of the Immigration and Naturalization Service, RG 85 (National Archives, Washington, DC).
Kamiya, Gary. "The Woman Who Fought Chinatown Sex Slavery for Decades." San Francisco Chronicle, February 2, 2018. Accessed November 21, 2019. https://www.sfchronicle.com/bayarea/article/The-woman-who-fought-Chinatown-sex-slavery-for-12547791.php
Lee Kowck Koon. File 55245/252, subject correspondence, 1906-1932, Records of the Immigration and Naturalization Service, RG 85 (National Archives, Washington D.C).